In another contentious meeting that drew an overcrowded crowd, the Prince William County School Board voted on Wednesday to suspend a policy that required teachers and staff who choose not to get a COVID-19 vaccine. 19 to submit to weekly tests.
At the time, school board members said the goal was to limit the disruption to in-person learning that would occur if unvaccinated teachers and staff were forced to self-isolate or quarantine. if they contracted the virus or were identified as a close contact. Under the school division quarantine policy, students and staff who are fully vaccinated do not have to self-quarantine if they are in close contact with someone who tested positive for the virus as long as they show no symptoms. Conversely, unvaccinated students and staff who are close contacts must quarantine for at least five days even if they have no symptoms, according to guidelines from the United States Centers for Disease Control and Prevention. .
But the staff vaccination and screening policy never came into effect until January 24 due to a shortage of tests, school board chairman Dr Babur Lateef (at-large) said ahead of the vote. . And in September, Lateef said, the school board acted on the knowledge that unvaccinated people were more likely to catch and spread the virus.
With the rise of the omicron variant, however, it became clear that vaccinated and unvaccinated people could catch and spread the virus, Lateef said.
"It doesn't make sense to only test those who are unvaccinated because vaccinated people also get COVID," Lateef said.
According to Virginia Department of Health data, however, unvaccinated people are more likely to develop COVID-19 — as well as be hospitalized or die from the virus — than those who have been vaccinated. From January 17 to February 5, according to the most recent data available, unvaccinated Virginians "developed COVID-19 at a rate 4.6 times higher than fully vaccinated people and 2 times higher than partially vaccinated people. ," according to the VDH website.
Lateef noted that about 93% of school division staff reported to school officials that they had been vaccinated.
Lateef voted to suspend the policy to require testing with school board members Adele Jackson (Brentsville), Jennifer Wall (Gainesville), Justin Wilk (Potomac) and Lisa Zargarpur (Coles).
Those who voted against suspending the resolution included school board members Lillie Jessie (Occoquan), Diane Raulston (Neabsco) and Loree Williams (Woodbridge).
Superintendent LaTanya McDade said the school division is aware of the new law and will release more information about changes to school practices regarding masks and mitigation strategies on Friday.
Williams, who voted against suspending the testing policy, defended it as fully legal and not an invasion of staff privacy. Jessie said she voted against it out of concern for the safety of staff and students, especially those with conditions that make them particularly vulnerable to serious illness from COVID-19 or who live with those who do, such as elderly family members or those with weakened immune systems.
Jessie said she was more interested in protecting those who complied with the school division's request to get vaccinated.
"They took their vaccinations," Jessie said of the 93% of school division staff who submitted proof of their vaccination status. "And they don't believe we should pay so much attention to the 5%."
The decision came amid another contentious school board meeting that again drew more people than were allowed inside the boardroom or an overflow area in the atrium of the Edward L Kelly Leadership Center, the school division headquarters.
The council chamber was limited to 48 spectators, while another 75 were allowed to watch the meeting from television monitors in the atrium, according to Diana Gulotta, spokesperson for the Prince William County School Division.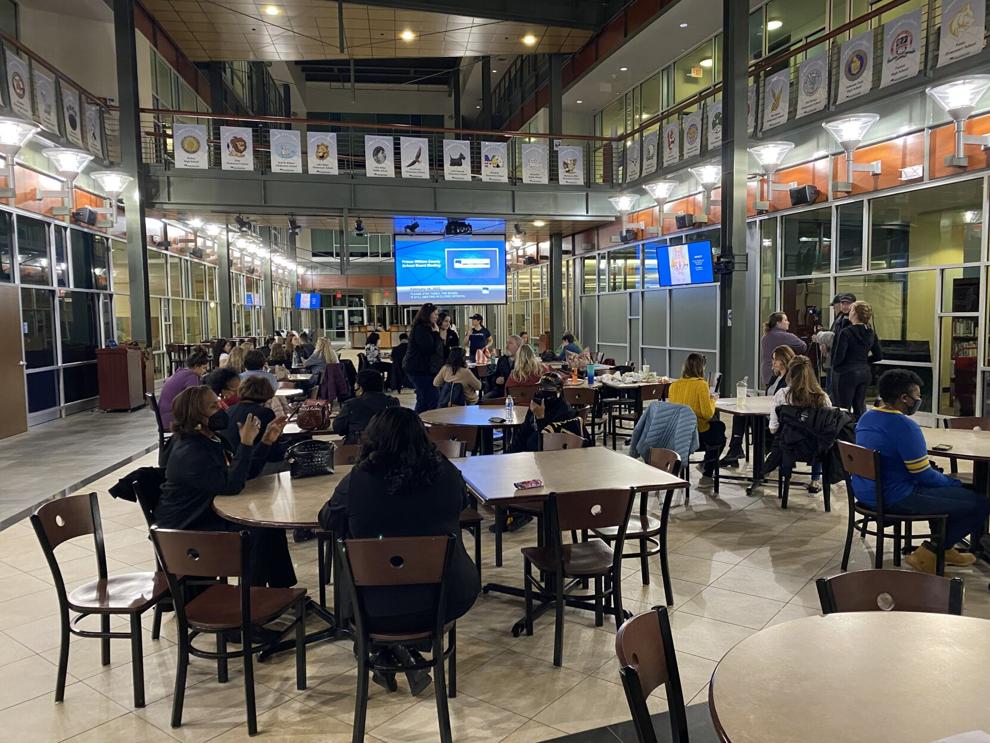 Security was tightened. A Prince William County fire truck was parked in the driveway just outside the building and several security guards were posted at the gates. Although the school division's rule requiring masks for all students, staff and visitors remains in effect, several people were allowed to enter the building without face masks. A woman who did said a security guard simply asked her if she wanted a mask, but was not refused entry when she refused.
Several people spoke out against the testing mandate at the meeting, including some who identified themselves as teachers. They complained that their privacy is compromised by having to present proof of their vaccination status. They have also complained that the testing areas are not discreet and are instead labeled with prominent signs for staff, students and anyone else in the building.
"Unvaccinated students and staff are not a threat to schools," said Cynthia Kilmer, social studies teacher at Gainesville High School. "And the climate that has been created by these policies is divisive. It is no one's business to know a person's vaccination status.
Kilmer also spoke out against requiring students and staff to wear masks as well as efforts to trace contacts among students and staff.
Kimberly Stewart, who teaches history and social studies at Oakton High School in Fairfax County, according to her LinkedIn page, told school board members that teachers "have the right to refuse medically prescribed vaccinations or testing required".
"They have the right to refuse a medical intervention that is imposed on them without their consent and not to have to choose between their health and their livelihood," she added.
Stewart also called the vaccination rule "unscientific and highly political policy" and argued that refusing to get vaccinated is a matter of staff members' civil rights, including the right to privacy. Stewart then read a quote from Martin Luther King Jr. regarding moral responsibility "to obey just laws" and "moral responsibility not to obey unjust laws."
Those words, however, prompted a rebuke from Forest Park High School student Jalen Custis, who said he was president of the Student Government Association.
" Let's be clear. If you compare this to discrimination and segregation and try to compare this to 1963, you are very ignorant," Custis said.
Custis then asked why the school board, which sued Youngkin to block his mask-optional order, would now relax its regulations on staff vaccinations.
"If the health and safety of our students and teachers is so important, why not go all the way by following CDC guidelines? asked Custis. "We cannot expect students and staff to be safe if we only follow some of the guidelines."
At the same time, Custis said students and parents "should have a choice" over whether students wear masks in schools.
Other speakers spoke in favor of McDade's proposed budget and the recently approved strategic plan, but were silent on vaccination and testing policy. Maggie Hansford, president of the Prince William Education Association, spoke in favor of the budget and teacher increases, but made no comment regarding staff vaccinations and testing.
Only a few people have come out in favor of requiring staff to be vaccinated or tested, including Richard Jessie, the husband of school board member Lillie Jessie and a parent.
Ovetta Scott, a Hampton Middle School teacher who is challenging Hansford for the role of PWEA president, implored the board to maintain strategies and best practices "to protect students and staff" from COVID-19 despite the new law. of the state making face masks optional in schools. She asked school administrators to show flexibility for staff who are particularly vulnerable to the virus.
Scott shared that his own mother is currently battling a serious case of COVID-19.
"Honestly, it's good that I'm wearing a mask to hide from my students the sadness, pain and anger that I'm going through. I'm scared of losing her," Scott said. the world, so please consider everyone's mental and social health."