Russian Ambassador to Ireland Yury Filatov claimed death threats were made against embassy staff at their homes.
In an interview with Russian TV, Mr Filatov said protests outside the Dublin embassy had turned violent and staff had reported to the gardaí.
The ambassador describes Ireland as being at the forefront of anti-Russian measures in Europe.
He also claimed that Russian children were being bullied in Irish schools.
Mr. Filatov said: "Currently, we are facing an extremely tense situation at the embassy. Our employees constantly receive death threats at home, by e-mail and by telephone.
He said the protests outside the embassy were "very aggressive".
We need your consent to load this content rte-playerWe use rte-player to manage additional content which may place cookies on your device and collect data about your activity. Please check their details and accept them to load the content.Manage preferences
"For several days, demonstrations have been taking place at the embassy with more or less intensity, often violent and very aggressive.
"But naturally we take all the necessary security measures," he said.
When asked if there was a threat to Russian staff at the embassy, ​​Mr Filatov replied: "Well, frankly, the situation is complicated. Naturally, we can say that the general political situation is simply hostile to Russia and all things Russian in political and cultural terms."
Staff have been emotionally affected, but the embassy remains in operation, he added.
"In general, the embassy functions normally, although of course it is not an easy environment psychologically.
"As for our compatriots, Russian citizens, they are naturally affected by the current situation," he said.
When asked if it was necessary to offer protection to embassy staff and diplomats, Mr Filatov replied: "Well, of course, it would be desirable. At the moment, our main concern is the protection of embassies."
He continued: "You know, this situation is a bit like what they tell you on a plane, how in an emergency the oxygen masks will fall from the ceiling.
"The first rule is to put on your own mask first, and only then start helping others however you can. That may apply to the current situation. Our opportunities here are extremely limited.
"We of course support each other in practice through advice, words of support, contact with people."
Staff repeatedly made reports to the gardaí, Filatov said.
"In case there are specific circumstances there, we can probably put him on the consular line of the Ministry of Foreign Affairs and inform – Our people, I must say, how to say, they did the right thing in several situations, they simply informed the police when appropriate."
Asked if he felt the gardaí had responded appropriately, Mr Filatov said: "Yes, adequately. Naturally they are obliged to respond to calls from citizens, so they did. ."
Russian children were bullied at school
The ambassador insisted that the current situation is also difficult for other Russians in Ireland. He said he is aware of cases where Russian children are being bullied at school.
He said: "The problem that we see and that people describe to us is the children in school.
"Unfortunately there are elements of intimidation and that's a great shame because in general, in my opinion, Irish people are generally friendly and kind, but sometimes, it seems, completely unaware of the situation, so that they take it upon themselves to act on the basis of an analysis that they have in their heads, and this, unfortunately, can affect our children who study in local schools."
Mr Filatov criticized the role played by the Irish media in portraying the conflict.
"Here, of course, the media plays a very negative role in painting a very simplified picture of the events unfolding in Ukraine at the political level," he said.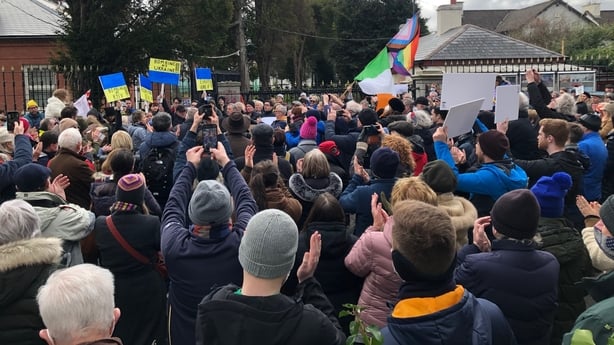 Mr Filatov insisted that "anti-Russian" measures were being adopted.
He said: "Ireland is at the forefront, both of the European Union and more broadly, when it comes to various anti-Russian measures.
"In this regard, one could say that it is hardly possible to speak of relations between Russia and Ireland."
He insisted that he still hoped to maintain a channel of communication between Russia and Ireland.
"Our main concern is to maintain a channel of communication with the Irish, which seems logical to me, because even in these difficult times it is necessary.
"But as our minister, Sergei Lavrov, said in an interview today, there is still hope that the West's understanding will change at some point."
Meanwhile, Minister Simon Harris accused Ambassador Mr. Filatov of "attempting to do propaganda" after the interview with Russian TV.
Mr Harris described the interview as a 'total distraction' but insisted the people of Ireland 'will not be distracted by misinformation, misinformation or outright lies'.
Speaking to RTÉ's Drivetime, Mr Harris said: "I don't intend, to be honest, to be distracted by the interview with the Russian ambassador. It's a distraction, and it's a total distraction.
"It was a regime that took over a nuclear power plant last night. We saw horrific scenes on our television this morning.
"The picture and image I think of tonight is not of the Russian Ambassador speaking and spreading his propaganda, but of the poor man lying on the body of a teenager who died in Ukraine yesterday.
"That's the image, that's the image the people of Ireland are thinking about and we shouldn't be distracted by the theater of anyone trying to spread propaganda at this sensitive time."
The minister said Russians will continue to be welcome in Ireland and that the problem is with Putin's regime.